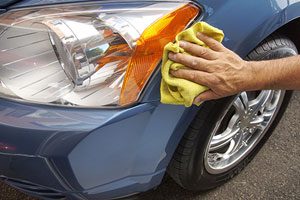 Services at Temecula Car Wash
At Temecula Car Wash, we offer a wide variety of services to our Temecula, CA customers. Whether you come and see us once a week or once a month, we want to make sure you enjoy your time with us. To ensure this, we have a team of professionals that love what they do. They get to know our customers and put their all into doing great work in order to ensure satisfaction. Additionally, they offer a wide variety of services that are all done to our 5-star standards. These services include:
Full Service
Our car washes can be customized based on your individual needs. We offer express wash, the works, super shine, and full service to accommodate each of our customers. Every wash includes window cleaning, hand drying, and interior vacuuming.
Auto Detailing
For those who want to pamper their cars, express detailing and custom detailing are excellent choices. These are done by our qualified car cleaners who address every square inch of your car in order to get rid of crumbs, dirt, dust, and any other garbage that's inside the vehicle.
Auto Seat Cleaning
Interior seat cleaning gets rid of debris from the inside of the seat, the sides, and the corner. In addition to this, it helps remove stains and discoloration to improve the overall look and quality of the interior of the vehicle.
Auto Carpet Cleaning
Deep cleaning can revive your carpets, get rid of debris, and improve the look of the inside of your car. Additionally, cleaning can get rid of spots and stains that ruin the fibers of carpets.
Engine Steam Cleaning
Steam cleaning can get rid of sediment in your engine to help improve resale value while helping your engine run more smoothly.
Oil Change
Each oil change is done by qualified mechanics who have years of experience and a strong dedication to keeping cars healthy and running beautifully.