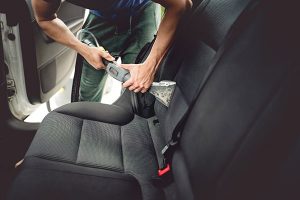 Cleaning the Interior of Your Vehicle
You'll read a lot of articles about how to take care of the outside of your vehicle; washing, waxing, etc. but today we will take a dive into the benefits of taking care of the inside of your vehicle.
Washing your car inside and out will make it look amazing but what other benefits come along with it? Is it worth it? Well, I think you would agree with me that we spend a lot of time in our cars, think about it… Do you commute to work every day? Do you take your kids to and from sports activities and drop them off and pick them up from school? Do you enjoy weekends out at your favorite local spot? How many hours do you think you spend in your car? It's imperative that you are in a clean environment during those many hours. It's going to help your focus and mental state, make you feel happier and even more organized, ready to take on the day!
Resale Value
Always be looking for ways to increase the resale value of car whether you're ready to sell now, in the next 6 months or in a few years. It's worth the time and investment of keeping the interior of your vehicle spik and span now for a greater return later.
Maintenance Routine
Find a routine of regular maintenance for the inside of your car. This will help protect the integrity of your upholstery, carpets, and all interior surfaces.
How Often
Get the interior of your vehicle thoroughly cleaned professionally once a month, at least. This is a good place to start, and you can increase as you see fit. Don't forget that you need to do a few things on your own in between these once-a-month washes such as:
Wipe away the surface dust with a microfiber cloth
Remove all trash from your vehicle daily
Vacuum the dusty carpets and upholstery. Leave it to the professionals to get in all the nooks and crannies for additional cleanliness.
Remove anything that could block your vision on the dash or the back window
Keep glass clean on all windows to ensure visibility to avoid accidents
Health Benefits
Often, we forget about the health benefits that come with cleanliness of the inside of our vehicles. There may be bacteria that has built up over time that you can't even see but if you follow your maintenance routine, it will remove allergens and eliminate harmful bacteria that can build up on your dashboard, steering wheel, seats, and carpets.
Keep the Integrity
When possible, park your vehicle in a shady spot, covered parking or garage
Use a windshield cover to keep the heat and sun out of your car, protecting all interior surfaces from damage the heat may cause
Being consistent with keeping your car clean and taken care of is key! If you maintain your vehicle's interior each month, it'll keep your car looking and feeling amazing all the time. Visit www.TemeculaCarWash.com to let the professionals take care of your maintenance routine.