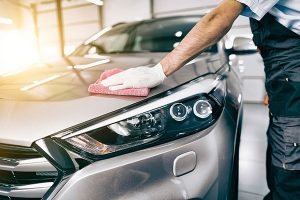 Save Time with Rancho Car Wash
When you need to clean your car, do you only have a short amount of time? Unless you're planning on detailing, chances are you need to be in and out with results that you notice. At Rancho Car Wash in Temecula, we understand that. This is why we make it a priority to save our customers time with quick yet effective car washes for all types of vehicles. Whether you're on your way home for work or have a few minutes to stop by when shopping, we'll be here to help you out.
Our car washes only take a few minutes and are done in a drive-thru that's equipped with the highest quality equipment in the industry. We regularly maintain and replace all working parts to ensure they don't risk scratching or harming our customers' vehicles in any way. When you go through this, it will clean the dirt from the top, bottom, and sides of car without missing an inch. Once finished, you'll see our friendly cleaners ready to wipe your car down.
Why choose us?
Friendly service
Fast service
Beautiful results
Wide variety of services to choose from
If you haven't been by, we'd like to clean your car! It only takes a short amount of time to get even large vehicles clean from top to bottom.