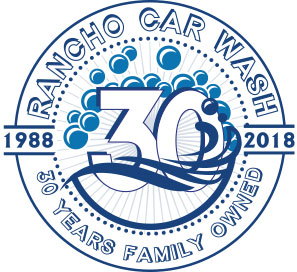 Rancho Car Wash Celebrates 30 year Anniversary
June 2018 will be 30 Years in business for Rancho Car Wash, and as a huge thank you to all our customers we are going to roll back the cost of a express car wash to what it was in 1988!
Rancho Car Wash has been a staple in the Temecula area since it was first opened in 1988. Initially known for quality car washes, residents have always flocked to their Jefferson Ave location for prompt service from friendly professionals. However, in recent years, the owners have enhanced their services to help their customers save even more time.
This facility now proudly offers oil changes that are done by trained mechanics who are capable of working on virtually any make and model of car. Their expertise and dedication to efficient service has saved customers time while making sure their vehicles are properly maintained. This is in addition to their quality car washes, which are now part of a line-up of a variety of wash choices.
With the highest quality cleaning equipment, Rancho Car Wash continues to impress customers and keep them coming back for regular washes. In fact, their membership program has been rapidly growing and now helps keep many members of the community satisfied with affordable car washes. As pioneers in their field, the owners have made it a priority to stay on the forefront of innovation when it comes to the best washing equipment and solutions.
Detailing, oil changes, quick washes, and express detailing are a few of the services customers can expect with Rancho Car Wash. Open all throughout the week, it's never a bad time to get your car cleaned.