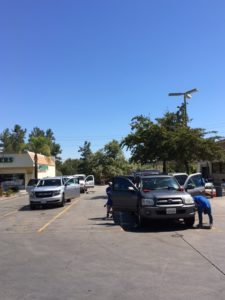 Protect Your Car From the Rain at Temecula Car Wash
When the rain hits hard for several days, you will likely notice water spots building up on your car. You may also notice dirt dripping from the top of the doors every time you get out, which can create a mess on the interior of your car. If you'd like to protect your paint and your car's interior, Temecula Car Wash can help. We're one of the leading car wash facilities in the area thanks to the length of time we've been established.
How Washes Protect
When you come in to our facility to have your car washed, we'll gently yet effectively remove the dirt and hard water stains that build up after the rain. We use soft cleansers and brushes to make sure your paint is treated well and isn't at risk of scratches or dings. Once we're finished hand drying, we can apply a protective wax coating that will allow your paint to shine.
Beat the Weather
When it begins to rain and you can see signs of wear on the exterior of your car, come in and see us. We'll make sure your vehicle is washed and waxed so the paint looks great for years to come.