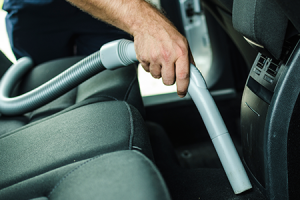 Improve Your Car's Interior with Carpet Cleaning
At Temecula Car Wash we've seen our share of cars with carpets that have been beat up, covered with mud, and riddled with stains. While extensive damage is something that will generally necessitate floor replacement, we can help with dirt and stains thanks to our carpet cleaning services.
While this might not be something you do often, when done on an occasional basis it can dramatically help improve the look of your car.
Carpet Cleaning
This service begins with vacuuming up all of the dirt and stuck-on food that can sometimes become a staple on the interior of your car. We get into every corner and crevice so the mess is 100% cleaned up. From there, we gently shampoo the floors, just like you have done in your home! Once this is rinsed off, your interior carpets will smell better and look better. We're even able to get stains lifted for many of our customers, which helps make their vehicles look like new.
If you clean your car's carpets on a regular basis, you'll be able to avoid those deep stains and the damage that can sometimes cause your floors to need to be replaced. Come on by and our experts will get started with the cleaning quickly so you can move on and enjoy your car again!
Visit Temecula Car Wash Today!