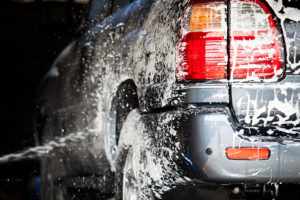 Which Car Wash is Right for You?
If you're in need of a good car wash, our team at Rancho Car Wash would love to help! We are a local company that prides ourselves on beautiful cars for affordable prices. Whether your car is covered in mud from an off-road trip or it just needs a quick maintenance wash, we are here to help. To ensure you get the wash you really need, the information below can help you better choose which car wash is right for you.
If you're in a hurry but need help with the interior and exterior of your car, this is a great choice. This includes a ride through our incredibly effective yet gentle washing machine as well as hand washing, vacuuming, and more! It's one of our most popular services.
– Super Shine
This includes all that you get in the full-service wash as well as triple foam cleaner, a gentle conditioner, undercarriage wash, an air freshener, and Rain X. Although this does take a little bit more time it is well worth it for the results you get.
– The Works
This is another great option for a car that needs a little bit more TLC on the interior and exterior. In addition to all that's given in the full service and super shine washes, it also includes body shield, extreme shine wax and Aussie hand wax.
If you're not in a hurry and want your car cleaned like it's new again, detailing is something you'll thoroughly enjoy. Our crew goes into every crevice of your vehicle to ensure it's completely cleaned on the interior and exterior. You'll never be more excited to drive your car!