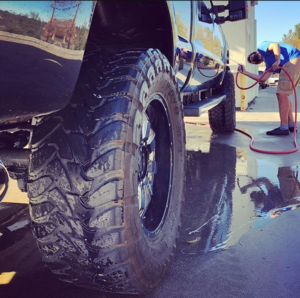 Express Detailing vs Custom Detailing: Which Should You Choose?
Detailing your car can result in a like-new look no matter how old or new it is. However, doing this yourself can be difficult if you don't have the right tools or know the right techniques to use. At Rancho Car Wash, we'll make it easy by taking care of this for you. We proudly offer Express Detailing as well as Custom Detailing. Which is right for you? To decide, the information below can help.
Completed in 30 minutes or less, this is the ideal detailing service for anyone who is crunched for time. However, it still offers dynamic results that will leave your car sparkling clean. This begins with a comprehensive wash that gets rid of dirt and debris from the exterior. It continues with an interior clean that includes vacuuming and conditioning of plastic and vinyl, as well as air that cleans dirt and dust from the vents. To finish, we complete an exterior wax that leaves a beautiful shine.
If you have more time, nothing beats the results of a custom detailing job. When we do this, we look at even the tiniest crevice in your car to get rid of dirt, dust, food, and any other debris that might be left behind. This also includes a thorough wax and wash that eliminates all dirt from the exterior to leave a gorgeous shine. This should be done around once or twice per year to protect your vehicle and paint.
Which is right for you? For some, it depends on how much time they have. However, for others, they might want a specific type of clean which will determine the option they go with.
CALL TODAY TO RESERVE A DETAIL TODAY
Address
27378 Jefferson Ave
Temecula, CA 92590
Address
29766 Rancho California Rd
Temecula, CA 92591