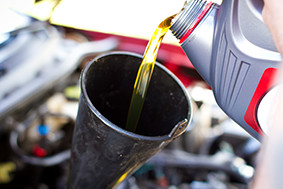 2 Top Benefits of A Regular Oil Change
Your car is one of the biggest investments you'll ever make outside of buying a home. Performing regular maintenance on your vehicle will keep it running efficiently and help you avoid big problems in the future. One of the most important maintenance services your car needs is a regular oil change. If you fail to change your oil properly, you run the risk of running out of oil or circulating filthy oil back into your vehicle's system. This can take a huge toll on your engine. If your oil isn't changed, the parts within your engine will begin to grind and permanently damage your engine's ability to function properly.
Keep Your Car Running With A Regular Oil Change
Oil changes are one of the cheapest maintenance procedures you'll ever have to perform on your car. A small investment can go a long way. Without an oil change, you're forcing your vehicle to circulate dirty oil through its system. Similarly to how humans function without water, without the proper fluids, your car can fail on you at any moment. Simply remembering to perform an oil change can go a long way to avoid costly repairs on your engine. Take a look at the following benefits you'll experience with a regular oil change.
Save Money on Repairs
Repairing or replacing an engine is no cheap task. It's one of the most expensive services available for a car. In fact, many people opt to sell their vehicles to a junkyard for money to buy a new car before choosing to replace an engine. Neglecting your oil change for a long period of time will cause a buildup of unclean oil. Dirty oil is poisonous to your vehicle's engine. As it ages, it begins to accumulate dirt and breaks down. This makes it less effective as a lubricant for the inner parts of your engine. This can cause severe damage that can add up to thousands of dollars. With a regular oil change, you can save a large amount of money on repairs for your car.
Increase Your Gas Mileage
Many drivers understand that an oil change can have positive effects on the performance and lasting power of their vehicles. Some of them, however, don't know that it increases the overall efficiency of their vehicles as well. Increased efficiency correlates to increased gas mileage. The lubricating property of fresh oil performs a variety of essential functions that make your car run without too much added stress. Neglecting to perform an oil change will make your engine work harder and dispense much more gas in the process.
Maintain Your Vehicle With A Regular Oil Change
Driving around in a vehicle that hasn't received a proper oil change in a long period of time can be incredibly dangerous. Imagine having your car fail in the middle of the freeway in peak traffic times. Changing out your oil is a quick maintenance procedure and it adds plenty of life into your vehicle. At Rancho Car Wash, there are a number of great car wash services, including an oil change service, that drivers can use to keep their vehicles properly maintained and looking great for years.