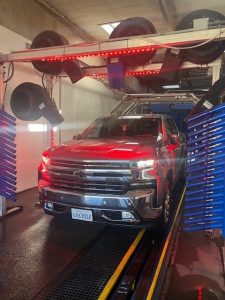 Why Detail Your Car?!
There are an extreme number of benefits to pampering your vehicle when you choose a detail wash. Temecula Car Wash offers Express detailing if you're in a rush or Custom detailing if you have a bit more time. However, both are great options for protecting the inside and outside of your car and for when you need to get in all the hard-to-reach areas. Your car works hard for you every day. Long commutes, road trips, off-roading, no matter what you do in your car, it deserves some love every once in a while. This is why auto detailing is so important and should be an integral part of your car maintenance.
There are options when it comes to detailing your vehicle.
Express Detailing
The Express detail at Temecula Car Wash will have your car shiny and sparkling in 30 minutes!
With the use of our cars daily, the natural wear and tear can take away its brilliance and make it look dull and dingy. Regular detailing will ensure that your car is shining all the time. Another important part of your maintenance routine should be a hand wax and buff which will create that lasting, durable shine that protects your car's clear coat. Lastly, the use of pressurized air will clean the vents and crevices in your car. This is a great addition to the express detail that will make you smile when you get in, look around and there are no longer crumbs or dirt in your view.
Custom Detailing
At Temecula Car Wash, our detailers will make sure that your car looks amazing inside and out. Purchasing a vehicle is a large investment and taking proper care of it is key. To keep your car in its best condition, it is recommended that you detail it at least 1-2 times a year. This will provide an added layer of protection throughout the year and during the changing seasons.
We don't want you to worry about a thing. At Temecula Car Wash we do our detailing work very efficiently and make sure that your car is sparkling when you drive away!