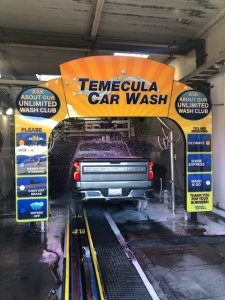 Prepping your vehicle for the Fall weather
Automatic/drive-through car washes are more popular than ever because they save time and hassle and as the summer heat winds down and the fall weather arrives, they save us from having to brave the last remaining days of the hot weather.
Detail shops, like Temecula Car Wash, offer a wide variety of services (including a drive-through car wash) to keep your vehicle running and looking as sharp as the day you purchased it. This time of year is perfect for detailing your vehicle because the harsh summer heat has baked on those impurities, dirt and grime causing potential damage to the exterior of your vehicle.
You might ask, are automatic car washes safe for your car? In fact, in many instances, they are the 'safest' course of action for many car owners who want to keep their car clean.
Also, automatic car washes can be safer for your car's finish than washing your car yourself because do-it-yourselfers sometimes don't use enough water to safely remove dirt; or they wash the car in direct sunlight which can burn spots in the paint. Or they use the wrong type of soap — such as dishwashing detergent, which removes protective wax and leaves a chalky residue on the finish. Or any one of several common mistakes can end up doing more harm than good.
Keeping your car clean and the finish looking good can also mean higher resale value when it comes time to get a new car. Keep in mind that a car with faded paint and a dingy overall look sells for 10-20 percent less than an otherwise identical vehicle that just looks nicer. Maintaining your vehicle not only gives it a higher resale value but certainly adds trade-in value as well.
So how often should you have your vehicle washed? That depends on how quickly it gets dirty and how dirty it gets. For some cars, once a month or so is sufficient, especially if the car is lightly used and kept in a garage. But some cars will need a bath more often, especially those that are parked outdoors.
Temecula Car Wash offers Express Packages, Car Detailing and a Full-Service 'The Works' Car Wash which includes Windows, Vacuuming, Spot Free Rinse, Towel Dry, Tire Dressing, Triple Foam Conditioner, Wheel Cleaner, Air Freshener, Rain X, Armor All Body Shield, Extreme Shine Wax, Coconut Hand Wax, Blue Coral Foam Bath and Ceramic Seal.
Visit Temecula Car Wash today, located at 29766 Rancho California Temecula, CA 92591 to ensure your vehicle is ready for this Fall season or call today, (951) 694-8118, to find out more about car wash options and specials!
auto cleaning
,
auto detail
,
auto detailing
,
auto detailing near me
,
auto detailing nearby
,
auto detailing temecula ca
,
auto wash
,
best auto detailing
,
best auto detailing temecula
,
best auto detailing temecula ca
,
best auto wash
,
best car wash
,
best car wash service
,
best car wash service temecula
,
best car wash temecula
,
best Car Wash temecula ca
,
car wash
,
car wash near me
,
car wash service
,
car wash temecula
,
Car Wash temecula ca
,
car washes in temecula
,
cheap auto detail
,
cheap auto detailing temecula
,
cheap Car Wash
,
cheap Car Wash temecula
,
temecula
,
temecula car wash
,
top auto detailing temecula
,
top Car Wash
,
top Car Wash temecula
,
trusted auto detailing temecula
,
trusted Car Wash
,
trusted Car Wash temecula