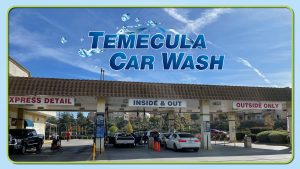 Benefits of a Regularly Washed Vehicle
Part of owning a vehicle, is learning how to care for it. Keeping your vehicle in top condition goes beyond gas and regular maintenance. Washing your car often is an important step to ensure that your car is well maintained. Should you choose to wash your car by hand or take your car to the professionals, there is no doubt that adhering to a schedule of washing your car will help you keep your car in good shape.
If you are looking for a reliable and affordable car wash service in Southwest Riverside County, with over 30 years' experience, the staff at Temecula Car Wash has developed a level of quality and consistency that will leave your car looking fantastic after every visit.
There are several benefits to be gained by having your vehicle washed on a consistent basis. Some benefits are:
• Protecting the Exterior
• Vehicle Safety
• Resale Value
• Professional Touch
Protecting the Vehicle Exterior:
The primary reason to regularly wash your vehicle is to preserve its exterior coat of paint. The appearance of your car's exterior is not just an aesthetic matter, keeping the coat of paint in perfect condition keeps moisture from entering the car's frame, interior and engine where it can cause corrosive damage.
The car's exterior is under constant duress from all that you encounter every day on the road. Washing your car on a regular basis keeps these contaminants from adhering to the paint and damaging its surface.
Keeping you Safer on the Roads
When you go for a drive, your windows, mirrors, and even tires should be clear of debris. By washing your vehicle on a regular basis, you'll never have to worry about these areas being too dirty to drive with.
Not regularly washing your vehicle can lead to dirt, debris, grunge, and dead bugs building up on your vehicle. That accumulation can make your driving vision dangerous. A buildup of dirt and grime on the windows and mirrors can cause blind spots in your field of vision, increasing the risk of an accident. Visit us at Temecula Car Wash and you'll have the confidence knowing your vehicle is clean and safe for your next trip.
Preserve the Value of Your Investment
There is no better way to ensure a car will function optimally and look great the whole time than with washing. A car sporting a coat of paint in immaculate condition speaks very highly of the car's owner and not only maintains the vehicles value but increases the driver's confidence. When it comes time to consider a resale, cars that maintain their original manufactured coat of paint in pristine condition can always expect a better asking price. The only way to keep that paint job looking good through rain and shine is with regularly washing your car. And while you're at it, don't forget the interior!
Leave it to the Professionals
It is easy to not put importance on having the right tools when washing your car. For those that are not familiar with how to properly clean a car with the purpose of preserving its functional life and original beauty, we can help. Temecula Car Wash uses the right cleaning solutions, tools, types of equipment and techniques to keep your vehicle exterior strong. Temecula Car Wash will not only add proper shine and clear off the dirt, debris or other materials sticking to the surface, but will also help to render the impeccable complete finish, providing the perfect wash's look and feel.
Trust Temecula Car Wash to keep your car and you healthy and looking good on the roads. Temecula Car Wash is proud to serve our area and our customers. Keep your vehicle clean inside and out by joining our Membership Program. We will make sure that you never need to worry about a dirty car ever again!